Sandy Nguyen and Hair Movements Salon and Spa
September 12, 2022
•
4 Minutes
Business: Hair Movement Salon and Spa
Owner: Sandy Nguyen
Location: Rancho Cordova, CA
In the Spring of 2020, Sandy Nguyen was forced to close the doors of Hair Movements Salon and Spa, a 25-year-old business in Rancho Cordova that she owned for the last 10 years.
For a lot of business owners like Sandy, the COVID-19 pandemic made life hard, but as a first-generation immigrant, she was no stranger to adversity.
Sandy's father came to America in 1975 to escape war in Vietnam leaving behind his wife and 10 children. Due to the rise of Communism, neither the family nor Sandy's father were certain of each other's survival during the war.
When Sandy's father was finally able to reconnect with the family through their grandmother, he was able to bring Sandy, her mother, and all her siblings over to their new home in America nine years later.
Before leaving Vietnam, Sandy's mother made sure each of her children had a marketable skill to start their lives in the United States. Sandy learned how to be a nail technician and when she came to Rancho Cordova, she was able to work at Hair Movements Salon and Spa.
Over the next 10 years while working at the salon, Sandy was able to learn English, build up a strong customer base and earn her associate degree in business from American River College before eventually becoming the sole owner of Hair Movements Salon and Spa.
Sandy built her business into a successful salon with a loyal clientele before the pandemic struck. She was forced to close her family's main source of income and lay off multiple employees. For months on end, Sandy struggled to work through the difficulties of COVID, wading through the changing landscape of mandates and shutdowns, until she was finally able to tentatively re-open her doors almost a year later.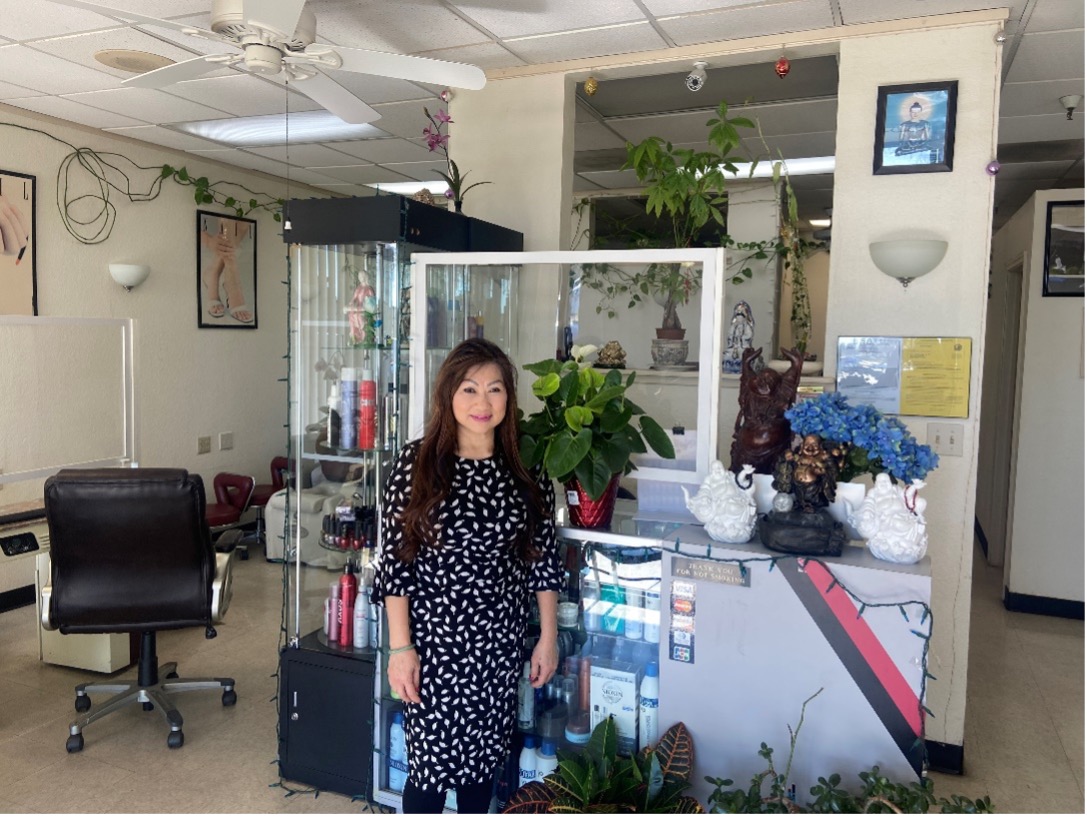 Despite reopening, Sandy struggled to gain back her customers. When Sandy arrived to open the salon one day, she was shocked to receive a three-day notice on her door demanding $7,000 in owed rent. Prior to COVID, Sandy paid her rent on time for the last 10 years.
With very few places to turn, Sandy reached out to the California Asian Pacific Chamber of Commerce for help in keeping her salon open.
The CalAsian Chamber's Glenn Fujii worked with business development expert Andrew Kim and the Sacramento COVID-19 Relief Specialty Center to provide Sandy the support she needed.
The team worked with the salon's property owner to set up payment plans and renegotiate Sandy's lease, keeping her business up and running for the foreseeable future. The center continues to provide Sandy funding, loan, and grant opportunities so she can reduce debt, upgrade her salon, and invest in future marketing strategies.
Sandy is now able to work towards her goal of stepping back from the day-to-day salon operations so she can help her daughter with her newborn grandchild.
---
Share on Social Media