Businesswomen of Color Find Promise in the Pandemic at the Minority Women Lead Kickoff Event
August 13, 2021
•
5 Minutes
Over the last year and half, leaders on mainstreet and in corporate boardrooms have had to re-think their plans, pivoting to survive and thrive amid new challenges. The adversity millions experienced has created the need to think about new possibilities. During this time, the leadership of women of color across industries has been marked by the creative and innovative ideas they have brought to the table and utilized to create growth in their business and for their business partners.
We recently hosted our first virtual panel discussion in the Built Out of the Pandemic three-part Minority Women Lead series. The panel showcased women of color talking about the pandemic's effects on women-and-minority-owned businesses.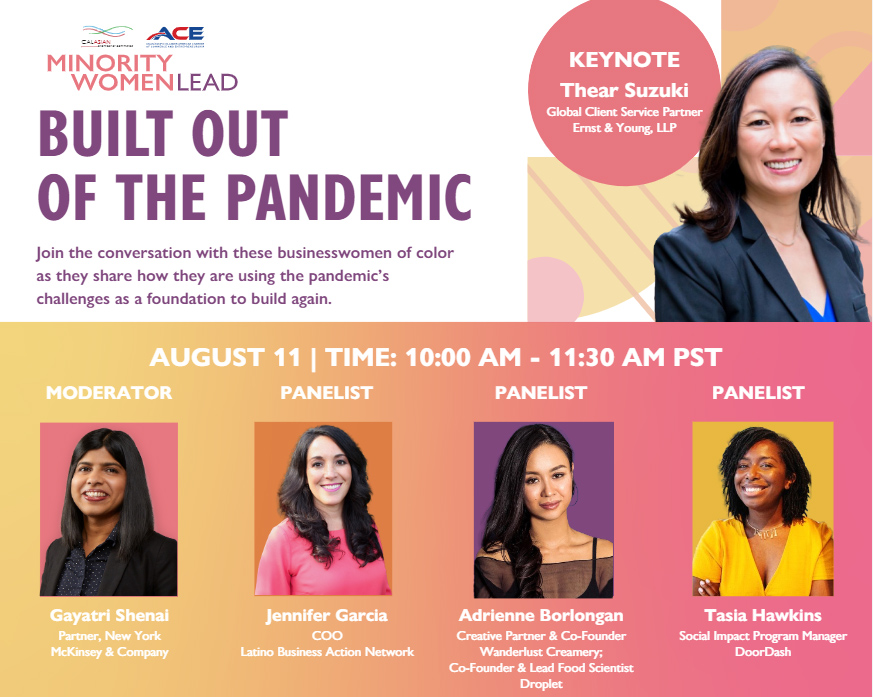 This panel discussion was kicked off by keynote speaker Thear Suzuki, Global Client Service Partner, Ernst & Young, LLP and Moderated by Gayatri Shenai, Partner at New York Mckinsey & Company. Panelists included Adrienne Borlongan, Creative Partner & Co-Founder at Wanderlust Creamery; Co-Founder & Lead Food Scientist at Droplet; Jennifer Garcia, COO at Latino Business Action Network and Tasia Hawkins, Social Impact Program Lead at DoorDash. From varying industries and backgrounds, each panelist shared her unique perspective during a dynamic, informative dialogue for the more than 200 minority women business owners, community, political, and corporate leaders who joined the virtual panel discussion. While their experiences and responses to how they navigate the pandemic may differ, there were common threads interwoven throughout the discussion, including the need for a digital presence, pivoting business models and cultivating creativity, access to capital, especially for minority-owned businesses, and the importance of empowering local economies and the women-owned/BIPOC-owned businesses that power them.
While the last 18 months have been extremely challenging, each of the panelists also spoke about how this time allowed them to uncover opportunities in their personal and professional life. Jennifer, a mother of three, told her story of how she was appointed interim CEO and why the pandemic reminded her of the importance of her faith and refined what she worked on based on her interests and passions. Working with Latino entrepreneurs, she shared with attendees how important it is for entrepreneurs to develop a professional network to share ideas with and collaborate.
Adrienne, also a mother of three, highlighted how the pandemic gave her the time she needed to identify the holes that needed to be filled in her personal and professional life. When her four brick and mortar stores had to close, she said she used the scrappiness she developed as a daughter of immigrants and found the solution: opening her ecommerce store to sell Wanderlust ice cream online. Today, approximately 50 percent of Wanderlust sales are from their online store.
A leader in the social impact space and committed to racial justice, Tasia shared how the pandemic provided her the opportunity to show up for DoorDash's restaurant partners and help small businesses redefine their business models as their dining rooms were closed. She also highlighted how DoorDash's social impact team rapidly developed DoorDash's Main Street Accelerator program to help small restaurants faced with shutdowns and calamity. Under Tasia's leadership, the program provided grants to restaurants across the country and mentorship for restaurant owners with industry leaders, where they discussed everything from effective marketing to how to grow their business. She stressed how important coaching and mentoring is to help guide business owners through challenging times and growth.
Check out the full panel discussion here and sign up for future panel discussions.
Presenting sponsors Amazon Studios, Southwest Airlines, Wells Fargo and Verizon helped make the series possible. In addition, supported by silver partners, BNY Mellon, Coca-Cola, Comcast NBC Universal, DoorDash, Ernst & Young, LLP, Siemens Mobility, Inc., and Toyota, Minority Women Lead is a month-long series featuring inspiring women of color reflecting on how they have emerged from the pandemic and will continue to innovate in male-dominated fields.
---
Share on Social Media