#FAHM | Todd Gloria wants to be San Diego's New Mayor
October 15, 2020
•
8 Minutes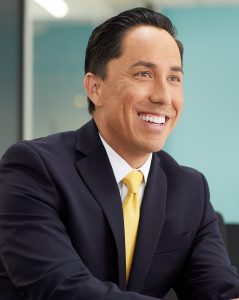 Born and raised in San Diego, Todd Gloria knows what it is like to live through hardships and struggles. Growing up, his family was not wealthy, but their hearts were rich. As someone of Filipino, Dutch, Puerto Rican, and Native American descent, as well as openly gay, Gloria faced many difficult challenges.
From a young age, Gloria developed a passion for public service and the desire to create a better city that served people without discrimination or injustice. He began his career in public service at the County of San Diego's Health and Human Services Agency. He went on to serve as the District Director to U.S. Congresswoman Susan Davis as a San Diego Housing Commissioner and as a member of the Mid-City Prostitution Impact Panel.
His notable achievements include: San Diego City Councilmember in 2008, Council President in 2012, and Interim Mayor from 2013-2014. His exemplary dedication to the city helped citizens regain trust in the government, and he was even named San Diego's "favorite elected official" by San Diego City Beat readers 8 times in a row.
In 2016, Gloria was elected Assemblymember to represent the 78th Assembly District, which includes San Diego, Coronado, Del Mar, Imperial Beach and Solana Beach. He currently holds the leadership position of Majority Whip, and also serves as the Vice Chair of the California Legislative LGBT Caucus. He has been credited with bringing in thousands of affordable housing units to the City of San Diego. He has also been a champion for increased infrastructure investment. As an Assemblymember, Gloria has passed legislation on many important issues including: affordable housing, fighting gun violence, climate change, and providing resources for the homeless.
As a native San Diegan, Todd Gloria is determined to prioritize city and its citizens above political agendas. He knows that San Diego needs strong, experienced, and progressive leadership in the Mayor's Office in order to effect real change. As mayor, he is dedicated to create real and effective solutions to the underlying problems that San Diegans face everyday. With his extensive career in public service, Gloria is confident he can be the mayor that best represents San Diego.
"San Diegans deserve a Mayor who works for all of us and will make us a city of opportunity that invests in every neighborhood and every San Diegan."
Todd Gloria will be running for San Diego Mayor on Election Day, November 3, 2020.
The priorities of his mayoral campaign revolve around the following issues:
Housing
Having lived in San Diego for so long, Todd Gloria wants to improve housing conditions all throughout San Diego, especially for the middle and working class citizens. As mayor he plans to implement:
New housing construction nearby transit areas
Increased investment into transit and multimodal infrastructure
Creation of affordable homes for the middle and working class
Rent stabilization for all renters
Enforcement of the current law that states short-term rentals are not a permitted use under the Municipal Code
Homelessness
Gloria sees the struggles that homeless people face in San Diego, and he wants to do his part to eliminate this crisis by providing solutions that will put people first. He plans to:
Make homelessness the city's Top Priority
Implement efficient data-driven strategies
Use housing first solutions with supportive services including MHSA funding
Increase transparency in taxpayer resources
Have stronger cross-jurisdictional and regional collaboration
Transportation
Gloria wants to create effective and efficient transportation for all citizens to use. As mayor, his administration's transportation strategy will be consistent with the Climate Action Plan and place priority on the needs of the City's residents, visitors, and businesses. He will:
Consolidate the various transportation functions to create a single Mobility Department
Fix roads and improve ADA/Accessibility for all
Create a connected network of separated and protected bike lanes, with increased bicycle safety measures
Improve San Diego's transit system and routes
Guide and lead the San Diego Association of Governments (SANDAG) to ensure transparency and accountability to the public
Improve the San Diego Airport & the Port of San Diego
Create walkable communities with accessibility and pedestrian oriented infrastructure
And more!
Climate
During his term as Interim Mayor of San Diego, Gloria introduced an aggressive and groundbreaking Climate Action Plan. As mayor, his administration will be committed to creating solutions to combat the harmful effects of climate change. This includes:
Full implementation of the groundbreaking Climate Action Plan
Constructing facilities to capture storm water and fixing crumbling infrastructures
Zero Waste Ordinance
Preparation and Planning for Sea Level Rise
Improving air quality
Fixing the pollution of the Tijuana River Valley
Racial Justice
Gloria has spent much of his career fighting to advance equity, inclusion, and justice against racism and oppression. He plans to create laws that will address these issues at the systemic core, rather than only at the surface level. His administration is committed to:
Increase affordable housing
Independent Police Review Commission with full investigatory powers to create check-and-balance
Investing in historically underserved communities & youth
Police reform to address use-of-force tactics, prioritize de-escalation, demilitarize law enforcement, removing unnecessary excessive surveillance, stopping overcriminalization, reviewing hiring practices, and addressing gang injunctions
Improve Public Safety & Stand Against Gun Violence
Gloria is dedicated to improving the safety measures for all members of the public. He is a firm believer that gun safety is public safety, and has authorized legislation to regulate concealed carry weapons in California. As mayor, to increase public protection, he will:
Join the Mayors Against Illegal Guns coalition to work with other Mayors to advance common-sense gun law
Strive to improve the relationship between public safety workers and citizens to generate trust
Fire fighters, lifeguards, medical service providers, police officers, and more
Fairly distribute public safety resources throughout the city
---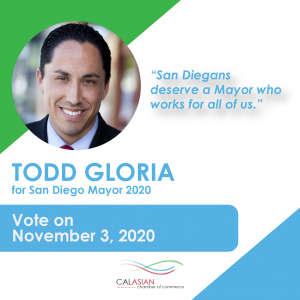 We are continuing to celebrate the achievements of Filipino-Americans as part of Filipino-American History Month (FAHM)!
Learn more about Todd Gloria here, and follow us on Twitter, Instagram, and Facebook to keep up on more FAHM content.
---
Share on Social Media