Larry Itliong, the Filipino Labor Leader who Changed the Nation
October 26, 2020
•
7 Minutes
In celebration of Filipino American History Month (#FAHM) we are proud to shine a spotlight on Larry Itliong and his remarkable achievements. From a Filipino immigrant to renowned labor organizer, Larry Itliong helped to revolutionize the West Coast labor movement.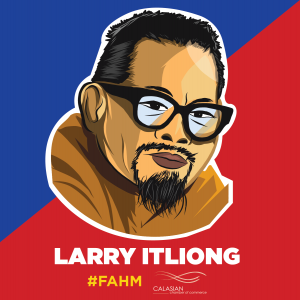 Larry Itliong immigrated to the United States in 1929 when he was a teenager, and worked as a laborer in Alaska. Since he was young he dreamed of working in the justice system, fighting for the rights of the poor. Although he never became a lawyer, he achieved his dream for helping people by becoming a labor leader and organizer. From Alaska, Washington, California, Montana, and South Dakota, Larry dedicated his time to organizing unions and strikes for his fellow migrant workers who traveled seasonally to follow the harvest.
After World War II, Larry settled down in Little Manila, Stockton to raise his family. In 1948, Larry Iltiong worked together with his fellow Filipino labor leaders Philip Vera Cruz, Rudy Delvo, Ernesto Mangaoang, and Chris Mensalvas to organize an asparagus strike in Stockton which became the first major agricultural strike after World War II. This was the second asparagus strike since the groundbreaking success achieved by the Filipino Agricultural Labor Association (FALA) in 1939.
From there, Larry became quite the renowned labor leader in the Filipino American community. In 1953, he became the Vice-President of the International Longshore and Warehouse Union Local 37 in Seattle. From 1954-1956, he served as the secretary of the Filipino Community of Stockton. In 1956, he founded the Filipino Farm Labor Union in Stockton. In 1957, he was elected President of the Filipino Voters League in Stockton. Over time, he had recruited more than a thousand new members to join the Agricultural Workers Organizing Committee (AWOC).
In May 1965, Larry Itliong and Ben Gines successfully striked for a wage increase from the Coachella Valley grape growers. Following that success, in September 1965, Larry travelled to Delano County to help organize and unionize the Filipino American grape workers. Gathered at Filipino Hall, the Filipino American laborers unanimously voted to strike. They were an aging generation who could no longer work tirelessly with low wages and no benefits. Their migrant work life built their world view and they were able to "see their labor in different settings, and to witness the power of organized labor" in making a difference.
But they couldn't do this alone — if they went on strike, the Delano grape growers would use the Mexican Americans to break their strike. A revolutionary partnership was then born.
Larry Itliong reached out to Cesar Chavez and convinced him to lead the Mexican American laborers in a joint strike with the Filipino Americans. To cement this union, Cesar Chavez's National Farm Workers Association (NFWA) merged with Philip Vera Cruz's Agricultural Workers Organizing Committee (AWOC) to form the United Farm Workers (UFW), historically marking the partnership between the Filipino Americans and Mexican Americans.
The Delano grape strike was a long, grueling movement that lasted for five harsh years, and the results of their success changed the course of American history forever. Contracts created between the UWF and the grape growers would set a precedent in increasing wages, improving working conditions, and adding benefits for the current and future generation of farm laborers.
In 1971, Larry Itliong resigned from the UWF following disagreements in the direction of governance within the union. According to scholar Alex Fabros, he was disappointed by how the "Filipinos were marginalized and never given true power within the union". Although Larry left the UWF, he continued to spend his time supporting labor movements. He worked with Philip Vera Cruz to advocate and construct the Paolo Agbayani Village, a retirement home for aging laborers that is still operated by the UFW today. He passed away in 1977 at the age of 63.
Over the years, the achievements of Larry Itliong and the Filipino American laborers have fallen to wayside in history. Success of the Delano grape strike of 1965 should have been celebrated as a powerful and revolutionary union between different immigrant cultures working together for a common goal. New emerging leaders in the Filipino American community have been doing their best to reclaim the lost history of their people. It's thanks to their continued efforts that the true history of the past can be remembered today.
On Labor Day weekend in 2015, nearly 500 people gathered together at Delano's Filipino Hall to celebrate the Filipino American contribution to the farm labor movement. It was also a time for them to commemorate the first strike vote made by the Filipinos and their decision walk off the fields 50 years ago. Among them was Paul Chavez, the son of Cesar Chavez. He said to NBC News, "There are names lost in history, and today's ceremony goes a ways to rectifying that… We should now look to recognize these unsung heroes… Latinos and Filipinos alike."
On October 25, 2015, in commemoration of Larry Itliong's birthday in 1913, California Governor Jerry Brown signed the bill to establish Larry Itliong Day.
On the same day in 2019, Governor Gavin Newsom issued a proclamation to declare the day as "Larry Itliong Day" in the State of California, securing his mark in American history.
---
You can read more about Larry Itliong's life and legacy in the book written by Gayle Romasanta and the late Dr. Dawn Bohulano Mabalon in Journey for Justice: The Life of Larry Itliong.
---
Share on Social Media