#MinorityWomenLEAD | 11 Ways Mentorship Can Accelerate Growth for Women of Color
As a woman of color, entering a majority-dominated field with a small network and limited knowledge of the field can be intimidating. Women of color are systemically underrepresented in top leadership positions. Implementing mentorship is one way to combat this problem and increase diversity throughout the workplace. Though women of color face barriers accessing mentor networks, mentorship is beneficial and essential for professional development.
1. Mentorship can lead to sponsorship.
Sponsorship involves advocating for a person's skills and potential for opportunities to a higher manager. Though mentorship does not guarantee this, mentees "developing at a faster pace… can lead to sponsors identifying them as a high-potential person." This way, women of color gain a greater network that they did not originally have in their male-dominated fields. (source)
2. "Career mentoring" can improve self-efficacy.
This specific type of mentoring in college, graduate schools, and professional environments provides "greater visibility into otherwise obscure fields, enhanced confidence about themselves and their ability to succeed in industries traditionally dominated by the 'majorities.'" (source)
3. Mentorship aids in socialization, career development, and career navigation.
As a mentor, you can unlock this potential and encourage their talent, teaching them to conduct themselves and their work in a professional setting. Be a confidant, a safety net, and an inspiration to the next generation of women leaders. (source)
4. Mentors provide insight about their jobs and suggest strategies for the mentee's aspirations.
Young adults can gain a better understanding of different jobs in their respective industries and narrow their scope of choice. Hearing mentors' experiences and advice can influence their desire to pursue a specific career. (source)
5. Students gain academic advice and learn more about careers and postgraduate opportunities.
Students learn about not only the mentor's job, but also alternative career paths and the steps in college required to get there. After all, entering the work field immediately after college isn't always the reality and it's okay, or even better, to let them know that.
6. Mentorship effectively recruits and retains women of color in STEM fields.
Men dominate the STEM field and women of color are increasingly underrepresented. Mentoring introduces women of color to the STEM field, fostering their talent and inspiring them to continue pursuing such careers. Mentors help women of color recognize their rightful seats at the table. (source)
7. Finding a mentor requires overcoming fear and stepping out of your comfort zone.
Women of color must let go of the fear of being uncomfortable and unqualified to maximize their opportunities. Be confident in your abilities and find a realistic fit by discussing your goals and trajectory. Look around, not up. Often times, women of color are scarce in top leadership positions, so being open to male mentors can still provide all the benefits. After identifying a good mentor, ask the person to "provide you with 'some sound business advice,'" so they'll be more inclined to help. (source)
8. Mentoring women of color tackles implicit bias.
Employers doing the intentional work to eliminate their self-learned racial discrimination can directly promote diversity and inclusion more effectively than diversity training. There is always room for improvement – consider mentoring to foster a healthy work culture and an open learning environment at your workplace. Use your diversity as a strength and have these uncomfortable but necessary conversations. (source)
9. Mentoring promotes continuous opportunity for emerging women leaders and improves work environments with each generation.
Each woman's experience is different, but women of color face similar themes of challenges. Mentors introduce specific challenges and teach them how to better navigate through such obstacles. Passing knowledge down to the next generation "assists attracting, retaining, and supporting women in work environments in which they are underrepresented." When thinking about the women who helped you reach your current success, make this same impact to younger women of color who were once in your shoes. (source)
10. Mentors can improve their own listening and empathy skills.
Women of color seek mentors with whom they can discuss unique problems concerning diversity. Mentors in cross-cultural mentor relationships learn that listening is "'key to understanding their experience and [the mentor's] ability to help them think through… the challenges they're facing.'" No matter the relationship to ethnicity among mentor and mentee, we can all learn something from each other's experience. (source)
11. Women of color improve their supervisory skills and gain a renewed commitment to their field.
Women in these positions have the opportunity to gain stronger leadership skills and refresh their passion for their work. If you find yourself feeling stagnant in the day-to-day routine, becoming a mentor can remind you why you began this journey. (source)
---
Mentoring is reciprocal – both parties benefit and aid each other in professional development. Though there are many benefits of passing down knowledge to the next generation of leaders, more work must be done to increase access to mentorship for women of color. In current times of social justice, it is especially important that we empower and uplift them.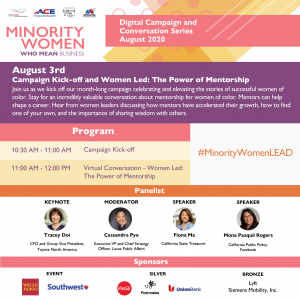 At our virtual conversation "Women Led: The Power of Mentorship" on August 3, CA State Treasurer Fiona Ma and Mona Pasquil Rogers, California Public Policy, Facebook will share how mentorship aided their upward mobility, with moderation by Cassandra Pye, Executive VP and Chief Strategy Officer, Lucas Public Affairs.
Register here to learn more!
---
Share on Social Media