#OurAAPIStories | I.T.A. Inc. Builds Bridges Between the United States and Japan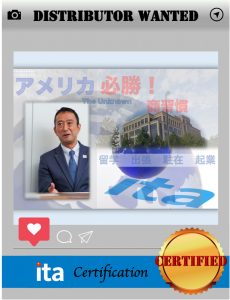 I.T.A Inc. is a unique business, serving as an exporter for various industrial and technological products across the country. Their business is vital to serving as a connection between Japan and the US, providing products that are cost and time-effective while also environmentally friendly. We at Cal Asian Chamber of Commerce proudly spotlight I.T.A. Inc for our shared values in supporting the AAPI community worldwide.
We took some time to get to know I.T.A. Inc. and what being an AAPI business means to them below.
---
CalAsian Chamber: What does it mean to you to be an AAPI business owner in CA during this pandemic?
Shin Kishioka: AAPI means diligent workers and owners – these are two great parts of training in our lives. There is a fair amount of high-tech, wellness, and ESG-related technology-based employees to serve and make meaningful contributions to our company as well.
CC: What words of hope can you give to other small businesses out there?
SK: We hope to leverage each other by strengthening our partnerships. We are looking for new products and technologies to market to the Japanese companies we work with. We also are looking to sell more Japanese products to US companies — this is important to create opportunities for Japanese companies to work with the US, fulfilling a greater economy.
CC: How can the community support your business?
SK: If you are the distributors seeking new products, please let us know. We are constantly trying to find new distributor partners in the U.S. for the newcomers from Japan.
---
This blog is part of a larger campaign called #OurAAPIStories which is designed to amplify the experiences of AAPI business owners, leaders, and prominent figures in our communities. If you want to join our efforts and highlight these AAPI voices, use the hashtag #OurAAPIStories when posting on social media. Moreover, you can reach out to Janice at jgarcia@calasiancc.org if you would like to share your own story with us.
---
Share on Social Media