Q&A with Board Member Jason Chan
November 7, 2022
•
6 Minutes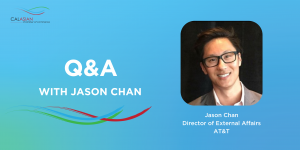 The CalAsian Chamber is advised and led by a Board of Directors with invaluable insight across all industries. One of these voices is Jason Chan, the Director of External Affairs at AT&T. Jason has led an impressive career spanning more than 15 years, with vast experience forging powerful, strong relationships among individuals and organizations. Read more below on Jason's experience and advice.
Tell me more about your role at AT&T and what drives you.
I have two roles at AT&T: working with the national public affairs team and serving as the Chief of Staff to the President of the West Region. In my role with the national public affairs team, I support a variety of third-party groups, largely with the AA/NHPI community, which I've been doing for almost eight years. In the chief of staff role, I support Ken McNeely, President of the West Region for AT&T's External and Legislative Affairs team. There, I work with a variety of state presidents, supporting Ken on day-to-day operational activities.
What drives me? Finding intersections between the AA/NHPI community and AT&T/corporations for potential areas of alignment. Most of the time, diverse communities or nonprofit organizations rarely align with corporations. I always enjoy trying to find areas where the two elements can share space looking for opportunities to expand it.
What kind of impact do you hope to make in California's diverse communities? Why is this work so important to you?
California is a majority minority state; it's a melting pot of different communities — people of different backgrounds and cultures. California's diversity is one of the reasons why it is the fifth largest economy in the world. That diversity is why California is a beacon of hope for people around the world and it's why people want to live here. What I want to do is lean in on that diversity because California is a state where we celebrate our diversity, whereas other states only tolerate it. The impact I want to make is to continue to highlight California's diversity and use it to further expand opportunities for California's residents and to demonstrate to the U.S. the positive power that diversity has on our society.
As a child, I had a lot of help when I came to this country; there were many people that helped me and my mom, adjust to living in the U.S. I want to be able to help new immigrants and minorities just as I was helped. People come to the U.S. thinking of the American Dream, and I want to help these groups achieve their American Dream. My goal is not about cutting up a pie into smaller pieces or getting a larger piece of the pie, it's about making a bigger pie so that everyone can get more. That's the impact I want to make.
What is some key advice that has helped you throughout your career?
There's a saying, "A rising tide lifts all boats." One of the key pieces of advice that I've received is that a lot of people have helped me get to where I am, and I should continue that cycle as I move forward. Secretary Norm Mineta used to describe the concept of a ladder, where you use one arm to pull yourself up, and use your other arm to pull up others. Over the years, I've received help from countless people, and I'm so grateful for the opportunities that have risen because other people believed in me. Now I'm in a position where I can give back to those that are in my shoes from my past experiences, so I do my best to bring them along whenever I can.
The other piece of advice is that participation is important. You must speak up, otherwise you won't been seen. It can be hard to find your voice, especially when you feel like you're the only person like you in the room, and it can be easy to fall prey to imposter syndrome, to feel like you don't belong — but you can't let that thought process take over. You were invited to the space, and you need to take that opportunity to shine. Whenever you're in that situation, you need to remember that you're speaking not just for yourself, but you're speaking for your community, so you should never shy away from an opportunity to do just that.
Learn more about CalAsian's Board of Directors here. 
---
Share on Social Media