Small Business Insights: 5 Options for Business Lease Renegotiations
February 16, 2021
•
8 Minutes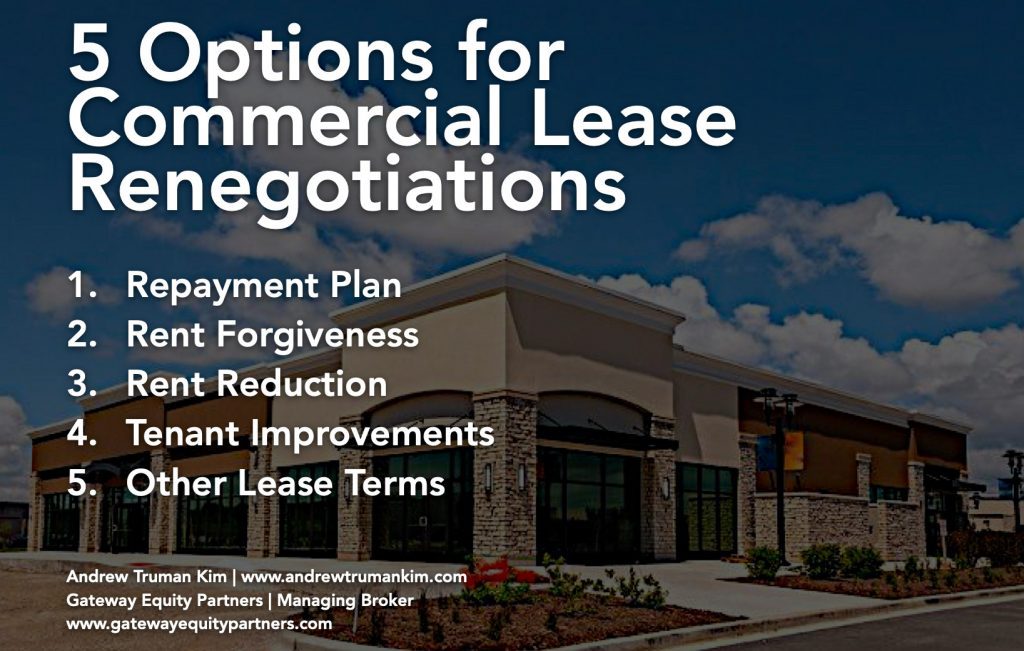 If you've had to renegotiate an agreement, you're aware of how painful this process can be, especially if the original agreement was only recently made and is with someone you like and hope to work with in the future. Having to renegotiate, in essence, is breaking faith in the spirit of your agreement. However, if you do not renegotiate, you may go out of business.
Renegotiating can be a highly emotional, and an exhausting process. It's no surprise that after interviewing dozens of commercial landlords, less than 50% of their tenants have proactively attempted to renegotiate their lease agreements, even though the landlords may have been willing to modify lease terms.
Due to the pandemic, landlords have been faced with significant uncertainty. Both the real estate markets and the business model of being a commercial landlord face unprecedented and now existential challenges. With millions of business owners and employees working from home, and thousands of businesses unable to pay rent due to the pandemic, landlords have been reevaluating conventional expectations, which presents a unique opportunity for tenants to approach their landlords with a renegotiation offer.
As a commercial landlord myself and having worked closely with some of the most prolific landlords in the Sacramento region, I will affirm from anecdotal data that there's been record level efforts in 2020 from commercial landlords to renegotiate certain lease terms and/or leases all together with their tenants.
My primary recommendation is for you to first commit sending a written renegotiation offer to your landlord. The reality is that for the majority of small business owners, they will never even attempt to renegotiate, let alone send a written renegotiation offer that's well reasoned and persuasive. Therefore, step one is to emotionally commit to sending an offer, especially before the federal moratorium on evictions and foreclosures sunsets this coming September 2021. Most small business owners are not aware of what options may even be available to them. Therefore, below are 5 options that I've personally done and/or seen other commercial landlords consider during the 2020 pandemic:
5 Options for Commercial Lease Renegotiations
Repayment Plan: The moment you realize you're not going to be able to cover the rent payment, you should begin thinking about how many months of rent you will be unable to pay upfront. Then you should begin strategically communicating with your landlord – giving them a heads up on your financial position, while not trying to scare them. Begin soft asking what kind of assistance could be possible. Ultimately, this good-faith engagement can help come to favorable repayment plan terms. From personal experience, when the tenant is upfront, landlords would be more likely to consider revising payment schedule and not charging additional "late fees" and/or accrued interest.
Rent Forgiveness: Once you've missed a couple rent payments, it's time for a reality check for your business holistically. This moment is critical. I've spoken to countless business owners who refuse to do an accurate diagnostic of their business position and future plans. Thinking there will be a sudden turnaround for your business is delusional and not helpful. However, after reassessing your financials and business plans, and you're confident in achieving profitability, then I would present to your owner an offer to begin repaying rent starting a certain time period, if they would consider forgiving some if not all past rent payments. Surprisingly, I've seen landlords, during the pandemic, agree to this. But you'll have to present a compelling business plan and strong financial statements to demonstrate your ability to perform.
Rent Discount: This would seem like the most obvious request from tenants, but the one offer that will likely not happen, due to a multitude of reasons related to the landlords' financing and operational structures. With that being said, during the pandemic, I've experienced and seen landlords provide "rent discounts" to specific model tenants and/or signature anchor tenants in their building. If you consider your business the "rockstar-anchor" tenant for the building, you may have some leverage to renegotiate your rent payments, especially if it's a temporary discount. For example, I am aware of some anchor tenants who've received up to 50% discount until shelter-in-place ordinance is lifted.
Tenant Improvements: Another reason to consider doing an accurate diagnostic of your business and financials is to understand your short and long term business needs, especially if they're real estate related. Landlords may consider helping pay for certain tenant improvements, especially if these improvements increase the economic value of the building. Landlords may have tax incentives (depreciation/amortization) from sponsoring building improvements. If your lease is going to be up for renewal soon, I would strongly recommend assessing what types of tenant improvements could be valuable for your business long range and could be ideal for your landlord to subsidize.
Other Lease Terms: There are many elements of a lease agreement that can be modified, especially if you're dealing with a mom-and-pop landlord. Landlords are people and their decision making process is as influenceable as everyone else. For example, you can ask to change the payment dates/schedule, you can request to change the policy on subleasing. You can request for a discount on CAM fees (Common Area Maintenance) or parking fees. You can request to waive all late fees. There are multiple ways of changing terms to help support your business needs, noting the fundamental premise that good landlords want to see their business tenants succeed.
Unfortunately, the problem for most tenants aiming to renegotiate their lease is failing to approach this process without realistic expectations and without understanding what kind of landlord they're dealing with. Each landlord will have their own limitations and appetite. If your offer is not well targeted, reasoned and/or compelling, landlord's have no legal obligation to respond to your renegotiation requests. Therefore, proper due-diligence, strategic planning and a discipline execution calendar will be the most important factors in achieving a revised deal for your commercial lease.
---
Andrew Kim is a Managing Broker for Gateway Equity Partners, an entrepreneur, investor, landlord, and strategist. Learn more about Andrew at https://www.andrewtrumankim.com/.
---
Share on Social Media