Thank You to California's Legislators!
October 6, 2022
•
8 Minutes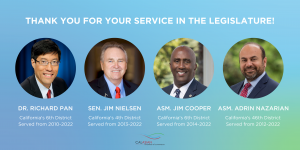 Several legislators in California are terming out in 2022, and the CalAsian Chamber would like to recognize and honor their contributions to Statewide policy work. Below are four legislators who worked with the CalAsian Chamber or the Asian Pacific Islander (API) Legislative Caucus, or carried a bill that benefitted the AAPI community. Thank you for your dedication to AAPI communities across the State!
Dr. Richard Pan
Dr. Richard Pan is a pediatrician, former UC Davis educator, and State Senator proudly representing Sacramento, West Sacramento, Elk Grove and unincorporated areas of Sacramento County.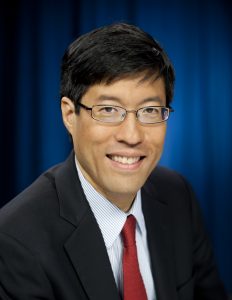 Dr. Pan is Chair of the Senate Committee on Health and the Asian American & Pacific Islander Legislative Ca
ucus. He also serves on: Budget and Fiscal Review; Education; Business, Professions & Economic Development; Human Services; the Budget Subcommittee on Health & Human Services; and the Special Committee on Pandemic Emergency Response.
TIME magazine called Dr. Pan a "hero" when he authored landmark legislation to abolish non-medical exemptions to legally required vaccines for school students. Dr. Pan also authored one of the most expansive state laws regulating health plans eliminating denials for pre-existing conditions and prohibited discrimination by health status and medical history. He demands transparency and accountability in state health programs.
Dr. Pan and his wife are raising two young sons and run a small business dental practice. The son of immigrants, Dr. Pan attended public schools and earned his Bachelor of Arts in Biophysics from Johns Hopkins University, a Medical Doctorate from the University of Pittsburgh and a Masters of Public Health from Harvard University.
Senator Jim Nielsen
A successful farmer and rancher, Senator Jim Nielsen grew up on a small farm in the San Joaquin Valley and graduated from Fresno State with a Bachelor's degree in Agricultural Business. After college, Jim worked as a ranch foreman and operated the family cattle, field and row-crop ranch. He later founded a company that utilized rice hulls and rice straw for fuel.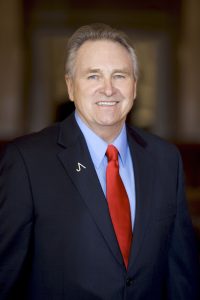 Elected to the State Senate in January 2013, Senator Nielsen proudly represents the citizens of Butte, Colusa, Glenn, Placer, Sacramento, Sutter, Tehama and Yuba counties. Senator Nielsen serves on the following committees: Budget and Fiscal Review (Vice Chair); Elections and Constitutional Amendments (Vice Chair); Governance and Finance (Vice Chair); and Governmental Organization (Vice Chair). Sub-Committee: No. 4 on State Administration and General Government. Select Committees: 2020 United States Census; and Mental Health and Addiction. Joint Committees: Fairs Allocation and Classification; Fisheries and Aquaculture; Rules; Legislative Audit (JLAC); and Budget.
Given his extensive experience, Senator Nielsen is a Commissioner on the Little Hoover Commission, an independent state oversight agency whose mission is to investigate state government operations and policy.
Senator Nielsen was originally elected to the State Senate in 1978 and served as Republican Leader from 1983 to 1987. In 1992, he was appointed Chairman of the California Board of Prison Terms, where he served until 2007. He was elected in November 2008 to represent the North State's Second Assembly District in the State Legislature.
Read more of the Senator's bio here.
Assemblymember Jim Cooper
Assemblymember Jim Cooper proudly represents California's 9th Assembly district, which includes the cities of Sacramento, Elk Grove, Galt, and Lodi.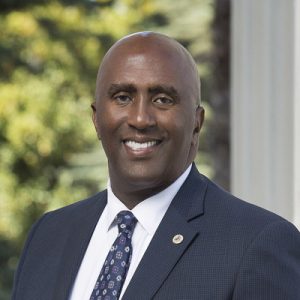 Cooper currently serves as Chair of the Public Employment and Retirement Committee and is also a member the Governmental Organization Committee, Insurance Committee, and the Assembly Budget Subcommittee No. 4 on State Administration. Cooper has also served as the Assistant Majority Leader and Assistant Majority Whip under then Speaker of the Assembly, Toni Atkins.
Assemblymember Cooper has an extensive background in law enforcement and local government and serves as the Chair of the Assembly Select Committee on Community and Law Enforcement Relations and Responsibilities.
Before joining the Assembly in 2014, Cooper served as a Captain in the Sacramento County Sheriff's Department for 30 years and spent 15 years as Elk Grove's founding mayor and councilmember. He established solid governing values, balanced the city's budget, and built a city from the ground up.
Cooper has earned numerous awards, including the Bronze Star for Bravery for actions during the 1991 "Good Guys" hostage crisis. He also spent three years working as the Department's spokesperson and spent nearly a decade working as an undercover narcotics officer and gang detective –investigating illegal activity to fight drug trafficking in Northern California.
Community service is a significant part of Assemblymember Cooper's life. He has served on the boards of the Boys & Girls Club, Big Brothers Big Sisters, and the Sacramento Children's Receiving Home.
Cooper grew up in Sacramento and is a graduate of the West Point Leadership Academy and FBI National Academy. He earned a Master's degree in Organizational Leadership from Saint Mary's College.
Assemblymember Adrin Nazarian
Assemblymember Adrin Nazarian (He/Him) was elected in November 2012 to represent California's 46th Assembly District, which includes the Hollywood Hills, Lake Balboa, North Hills, North Hollywood, Panorama City, Sherman Oaks, Studio City, Toluca Lake, Valley Glen, Universal City, Van Nuys, and Valley Village.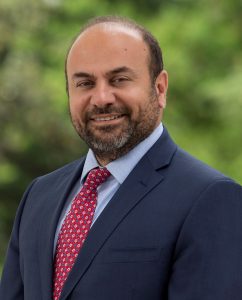 Since his election, Adrin has diligently worked to create educational opportunities for young adults, increase mass transit in the San Fernando Valley, provide smarter management of vital water resources through infrastructure improvements, protect and expand the film industry, and strengthen our infrastructure for much-needed earthquake resiliency. He chairs the Aging and Long-Term Care Committee, as well as the Select Committee on 2028 Olympic and Paralympic Games; he sits on Arts, Entertainment, Sports, Tourism, and Internet Media Committee, Health Committee, Transportation Committee, and Budget Subcommittee No. 4 on State Administration.
Adrin is proud of his record, taking on powerful special interests in Sacramento. He has led the fight in Sacramento by doing the following:
bringing entertainment jobs back to our communities
protecting our affordable housing and helping homeless individuals get off our streets and back on their feet
taking on the NRA to pass sensible gun laws
standing up to health insurance companies to allow doctors to prescribe medicine, not health insurance companies
Read the Assemblymember's full bio here.
---
Share on Social Media