The AAPI Stories that Shaped California
As Asian American and Pacific Islander (AAPI) Heritage Month comes to a close, we're taking a moment to recognize those who are advocating for AAPIs everywhere. Each person on this list has contributed to California's AAPI history and today's work toward social justice. While there is still much work to do, these Californians each played a role in making this month a true celebration of our vibrant AAPI community.
Yuri Kochiyama
(1921-2014)
Born in California to Japanese immigrant parents, Yuri Kochiyama was a Japanese American civil rights activist who supported political prisoners and victims of FBI oppression. She also founded the Day of Remembrance Committee in New York City to commemorate the day President Franklin Roosevelt signedExecutive Order 9066, which cause the forced removal and incarceration of Japanese Americans during WWII. Kochiyama was also one of 1,000 women given a Nobel Peace Prize through the "1,000 Women for the Nobel Peace Prize 2005" project. While her philosophy has been met with some controversy, she spent her life building bridges for the oppressed to cross.
Emma Gee and Yuji Ichioka
Unknown and (1936-2002)
Emma Gee and Yuji Ichioka formed the Asian American Political Alliance at University of California, Berkeley, which was the first university to use the term "Asian-American." During this time, political demonstrations were fairly apparent but were not effective as there was no connection between subgroups. By creating the term Asian-American, other racist and derogatory terms were left behind and subgroups were united. Gee and Ichioka both became professors at UC Berkeley and after that, they then taught the first Asian American Studies course at University of California, Los Angeles.
Haing S. Ngor
(1940-1996)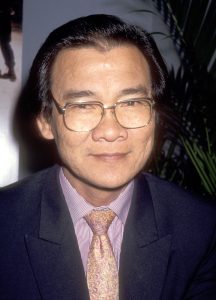 Haing S. Ngor was a Cambodian American gynecologist/obstetrician, actor, and author. Before coming to the U.S., he lived under the Khmer Rouge regime and survived torture and imprisonment. After the fall, he worked as a refugee camp doctor in Thailand and later left with his niece to the U.S. where he was cast as Dith Pran in The Killing Fields (1984); a film showing the life of Cambodian journalist and refugee Dith Pran. He received many awards and honors after this role, including the Academy Award for Best Supporting Actor (he was first Asian to win in a debut role). He originally was not interested in acting but decided he wanted to show the world the horrors of the Khmer Rouge's communist regime. After this, he starred in many other projects that showed the stories of Asian immigrants.
Cecilia Chung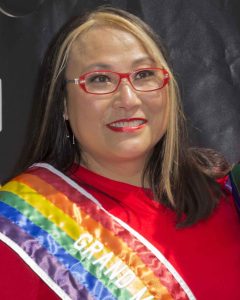 Cecilia Chung is a San Francisco-based civil rights leader and activist for LGBTQ+ rights, HIV/AIDS awareness, health advocacy ,and social justice. She is the first transgender woman and Asian person to be elected to the SF Lesbian, Gay, Bisexual, and Transgender Pride Celebration. Chung has tirelessly advocated for health issues that affect the LGBTQ+ community and was appointed under former President Barack Obama to the Presidential Advisory Council on HIV/AIDs.
Mike Iupati
Mike Iupati is Samoan-American former football player who grew up in Southern California. He spent most of his career with the San Francisco 49ers as their first-round draft pick. He was born and raised in Vaitogi, American Samoa and brought his culture to the NFL. After moving to the U.S., Iupati had struggled in school as English was not his first language. It was not until a half-Samoan coach connected with him and realized his potential for college and higher education. Following his career with the NFL, Iupati continued to represent his Samoan heritage, and also lends his advocacy influence as a strong supporter of the Kristin's Fund mission to end the cycle of domestic violence.
Connie Chung Joe
Connie Chung Joe is the CEO for Asian Americans Advancing Justice – Southern California. Joe has been working her entire professional life to help the underserved Asian population. As the CEO, she has worked to quadruple the Korean American Family Service budget. She also co-founded the API Human Trafficking Task Force of LA County, and has co-chaired a number of Asian and Pacific Islander serving committees. Joe began her work as a public service lawyer helping immigrant families, especially those struggling with mental health, domestic/family violence, and acculturation stresses to obtain responsive services.
Henry Der
Henry Der is the former Executive Director of Chinese for Affirmative Action. During his time at Chinese for Affirmative Action, he worked with colleagues to form the End National Security Scapegoating (ENSS) coalition. They work to advocate for government accountability, oppose efforts to racial profiling, and build alliances across affected communities. Der now serves as Deputy Superintendent of Public Instruction for the California Department of Education. As Deputy Superintendent. he specializes in running programs for at-risk and special needs students. He also helped campaign for the new City College Chinatown/North Beach campus which will serve more than 6,500 adult immigrant students every semester.
Barnali Ghosh and Anirvan Chatterjee
Barnali Ghosh and Anirvan Chatterjee are Bay Area activists and community-based historians. They have worked on more than a dozen South Asian American campaigns and groups that investigate issues regarding social justice, feminism, LGBTQ+, environmental, and arts. They are most known for their walking tours that show the oppression South Asians have faced in history and attempt to expel the model minority myth.
Ana Iwataki
Ana Iwataki is a writer, curator, and organizer from Los Angeles. Her work is rooted in diasporic culture and hyperlocal contexts. She was the consultant for the ACLU of Southern California's inaugural Artist-In-Residence program. As a community organizer, she focuses her energy on Little Tokyo, Los Angeles. Recently, Iwataki has been working in J-Town to provide affordable housing to the residents.
Prerna Lal
Prerna Lal is the founder of DreamActivist, an advocacy group dedicated to undocumented youth. Lal began their work as an immigration lawyer due to their own experience as an undocumented immigrant. They founded Dream Activist after the social discussions caused by the DREAM Act in 2008. To convey the organization's powerful message, they use storytelling and social media. Following graduation from law school, Lal received the Justice Thurgood Marshall Distinguished Accomplishment Award in Civil Rights and Civil Liberties for their immigration and LGBTQ+ work.
Chanchanit Martorell
Chanchanit Martorell is urban planner and community development practitioner who also created and taught the first Thai American Experience course at UCLA. She is an immigrant from Thailand who grew up in California and now has served a multitude of organizations that are dedicated to community, immigrants, and labor rights. She has also co-founded several organizations such as the Asian Pacific Islander Small Business Program and the Coalition to Abolish Slavery and Trafficking. During Thailand's military coup, she mobilized the SoCal Thai community in protest, which led to her founding and becoming the Executive Director of the Thai Community Development Center.
Thenmozhi Soundararajan
Thenmozhi Soundararajan is an Indian American Dalit who has worked toward caste abolition. She co-authored several reports that entail hate speech, disinformation on social media, and caste-based harassment in the tech industry. Soundararajan authored the book, "The Trauma of Caste" which looks at intersectionality of caste, gender, and mental health. She is also the founder of Equality Labs which is the largest Dalit civil rights organization in the U.S.
---
Read similar articles:
Happy AAPI Heritage Month! Let's Learn About It
5 Museums to Visit to Learn About AAPI History
Q&A with Jason Chan
Written by: Sia Patel 
---
Share on Social Media