Reflections from CalAsian's Past Board Chair
January 18, 2023
•
5 Minutes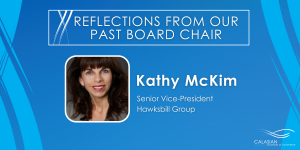 California is home to an impressive network of statewide leaders who advocate for our diverse business communities. At the California Asian Pacific Chamber of Commerce, we are proud to have several of those voices on our board to provide perspective and advice.
We chatted with our Past Board Chair Kathy McKim, the Senior Vice-President of Hawksbill Group, to hear her career insight and hopes for the new year. Kathy reflected on her time serving as Board Chair as she passes the role on to John Gutierrez, the Senior Director of Government Affairs at Comcast Cable Corporation. Read Kathy's Q&A below.
---
Q: What were some of your highlights and successes during your time as CalAsian's Board Chair?
A: It has been an honor to serve as Board Chair of the California Asian Pacific Chamber of Commerce for three years and to be on the board for more than 10 years. Key highlights for me as Board Chair include the exceptional response and technical support that CalAsian provided to our minority-owned small businesses during and following the pandemic, which helped support a faster economic recovery in California. In addition, I am proud of our work in promoting equity in all areas, including the passage of AB 2019, Equity in State Procurement, our leadership statewide through the Equity in Energy initiative, and the growth of the CalAsian Foundation building the next generation of AAPI leaders across the state.
Q: How do you hope to see California change and progress in the next few years? 
A: California's economy is diverse, with significant contributions from industries such as technology, entertainment, agriculture, and manufacturing. Its economy is also larger than that of many countries due to its large population and high per-capita income.
I hope to see California continue to lead the country in growing a statewide economy that is inclusive and representative of all Californians. I also want to continue to see progress in equity and opportunity in education across the state, including closing the digital divide through the deployment and adoption of broadband for all. The CalAsian Chamber will continue to lead the way in all areas related to equity.
Q: What is some key advice that has helped you throughout your career? 
A: I believe in the value of authentic leadership and staying true to your values and beliefs. Authentic leadership emphasizes honesty and transparency, which inspires trust and teamwork. Communication is also key, supporting a shared vision and aligned goals. This advice to be my own authentic self as a leader has helped me succeed and inspire others to succeed as well. This quote by Lao Tzu is very meaningful: "A good leader inspires people to have confidence in their leader, a great leader inspires people to have confidence in themselves."
Q: As you leave your role as Board Chair, what are you looking forward to next? 
A: As I leave the CalAsian Chamber Board of Directors Chair role, I will remain on the board and move forward in my consulting practice as Senior Vice-President at the Hawksbill Group. I will continue to serve as a Commissioner on the California Volunteers Commission, Chair the Teach for America California Capital Valley Board, and support California Women Lead as a board member. I am excited to also transition into the Board Chair of the Sacramento Region Community Foundation. This organization is focused on growing philanthropy in the region, building nonprofit capacity and ensuring all efforts are rooted in and advance diversity, equity, and inclusion.
The CalAsian Foundation is partnering with the Sacramento Region Community Foundation as we work together to strengthen our state and grow philanthropy and leadership in all our communities.
---
Read similar articles: 
Q&A with Board Member Jason Chan
Equity in State Procurement has been Signed! Here's What's Next
Q&A with Board Member Melinda Yee Franklin
---
Share on Social Media